| In this article: | | |
| --- | --- | --- |
| TSLA 194.76 +4.78 +2.52% | RIVN 20.22 +0.32 +1.61% | NIO 10.93 -0.26 -2.32% |
| NKLA 2.63 -0.12 -4.36% | F 13.14 -0.09 -0.68% | Volvo 19.43 -0.47 -2.36% |
| Volkswagen 17.65 -0.43 -2.35% | Daimler 62.22 -0.28 -0.45% | BMW 34.59 -0.38 -1.09% |
Tesla, Inc. (NASDAQ: TSLA) is an electric vehicle manufacturing company with a mission of accelerating the world's transition to sustainable energy. Martin Eberhard (UIUC Grad) and Marc Tarpenning founded Tesla in 2003, and Elon Musk is the current CEO. The electric carmaker is known for its Gigafactories, autopilot, and fast car [1].
Tesla is the most valuable automobile brand with a market capitalization of $1.01 Trillion as of October 25, 2021, which is the sum of the ten world's largest automakers combined. However, Tesla's market share is only 1.2%, with 900,000 vehicle deliveries vs. 75 million vehicles of the global output in 2021 [2].
The high stock valuation with a relatively small market share raises many questions about the sustainable competitive advantage and long-term profitability of Tesla:
Is the high valuation justified with a relatively small market share?
What are the key sources of the competitive advantage?
Will Tesla's business model be sustainable and remain profitable in the long term?
What are the key things to improve Tesla's sustainable competitive advantage?
Porter's Five Forces Framework provides a systematic approach to map Tesla's competitive advantage. It offers clear ideas of the current state, significant challenges, and opportunities to sustain long-term profitability.
WHAT IS PORTER'S FIVE FORCES INDUSTRY AND COMPETITION ANALYSIS?
Porter's Five Forces industry and competition analysis is a qualitative business analysis to evaluate the competitive advantage and long-term profitability. The primary goals are to determine the level of competition, evaluate the strength and weaknesses, and establish the corporate strategy.
Michael Porter developed the framework in 1980 and published the strategy in a book called "Competitive Strategy: Techniques for Analyzing Industries and Competitors." The framework identified the five forces that shape every market and industry globally. It analyzes the intensity of the competition, attractiveness, and long-term profitability.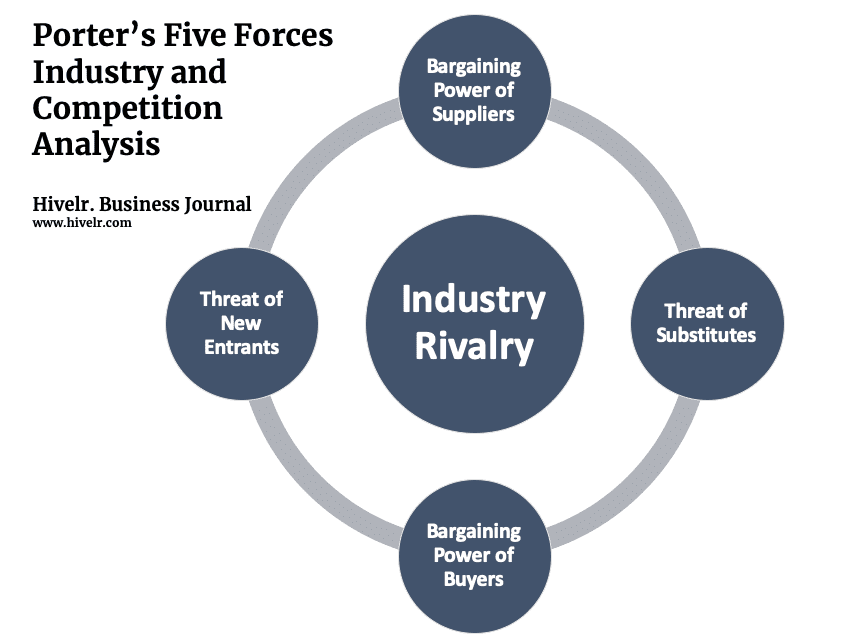 TESLA: PORTER'S FIVE FORCES INDUSTRY AND COMPETITION ANALYSIS
#1 – THREAT OF NEW ENTRANTS
The threat of new entrants is HIGH, as the barrier of entry is LOW. Tesla's competitors are electric vehicle (EV) start-ups, fossil fuel-powered vehicles, and traditional auto companies switching to electric cars.
Chinese companies dominate the EV start-ups, including Nio, BYD, XPeng, and Li Auto. They have a better competitive advantage because of their access to the biggest consumer market, well-established supply chain, and government support.
Meanwhile, US and European companies dominate the traditional automakers and companies transitioning to electric vehicles. Ford Motors launched an electric Mustang, while GM introduced the electric Hummer and will go all-electric by 2035. Volvo will go all-electric by 2030, while BMW, Volkswagen, and Mercedes-Benz will have at least 50% electric vehicle sales by 2035.
However, Tesla is the pioneer in the mass production of electric vehicles. It uses an economy of scale to lower costs and makes them widely available to everyone. Before Tesla, most electric vehicle developments were not attractive for commercial sales, even though the technology has been in existence since 1897. Its extinction came about when Henry Ford was successfully mass-produced internal combustion cars and a large oil deposit discovered in Texas [3].
Tesla replicates Henry Ford's mass production strategy and leverages the momentum of climate change to commercialize electric vehicles. However, Tesla has to offer more differentiated products and unique integrated services that no other competitor can match because the threat of new entrants is high. At the same time, it should strategize on vertical integration to lower supply chain risk.
How Tesla increases the barrier of entry and lowers the threat of new entrance:
Expand technology innovation to create differentiated products and offerings.
Become the global leader in autonomous technology and application.
Leverage SpaceX and other sister companies to provide integrated services.
Enhance manufacturing excellence to improve costs, reliability, and deliveries.
#2 – BARGAINING POWER OF SUPPLIERS
The bargaining power of suppliers is HIGH due to a limited supply chain network. The electric vehicle industry is relatively new and in the development stage. Today, the majority of Tesla vehicle parts come from German suppliers. Any disruption in the German economy, such as COVID-19 lockdown and energy shortage, will negatively impact Tesla's production.
Therefore, Tesla constructs the Gigafactories in the US, Asia, and Europe to lower the bargaining power of suppliers. The strategy will shorten the supply chain network, bring production and market closer together, minimize shipping costs, and avoid supply chain disruption due to COVID-19.
Recently, the computer chip shortage has disrupted the auto industry and shut down major US manufacturers such as GM and Ford. However, Tesla avoided the production shutdown by re-writing the software code to support different chip suppliers [4]. It shows Tesla can remain agile despite the high bargaining power of suppliers.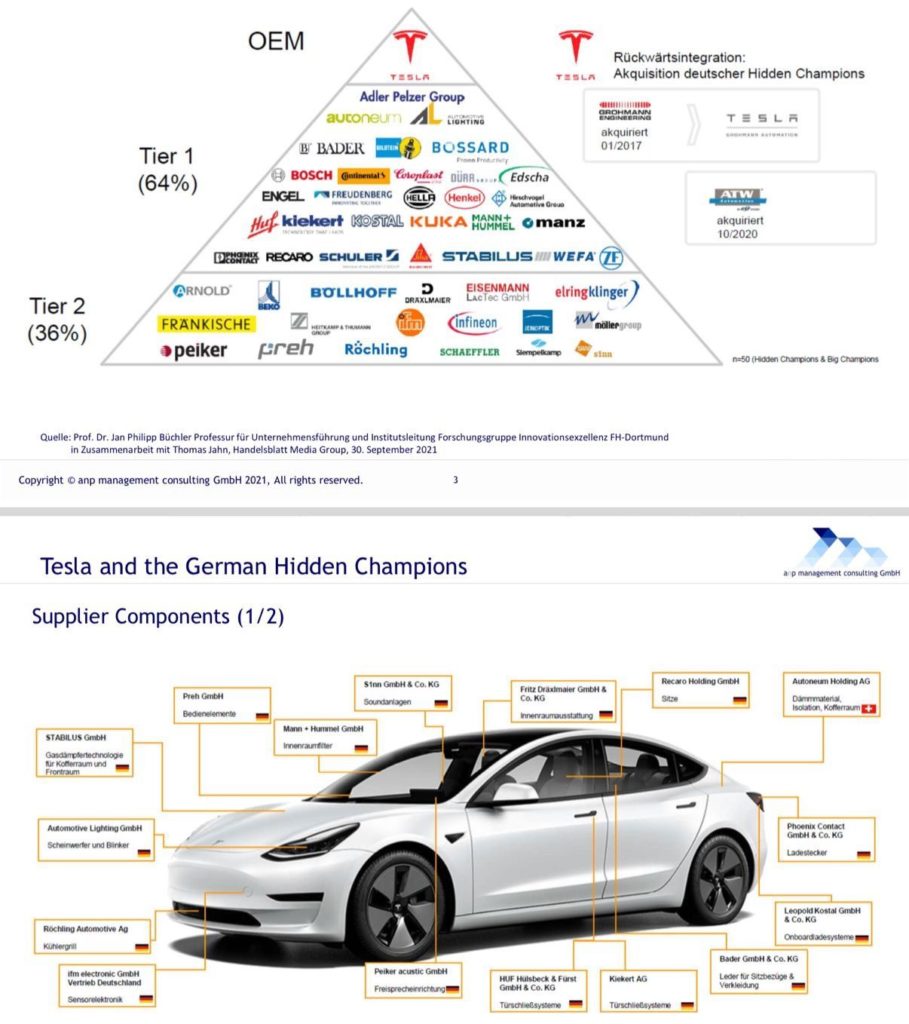 How Tesla lowers the bargaining power of suppliers:
Shorten supply chain network by constructing Gigafactories across the globe.
Diversify suppliers to avoid shortages and production delays.
Leverage technology to lower the bargaining power of suppliers.
Develop vertical integration to enhance cost leadership and manufacturing capabilities.
#3 – BARGAINING POWER OF BUYERS
The bargaining power of buyers is LOW, as Tesla segments its products at the high-end market with premium pricing. Tesla competes in the luxury market because of intense competition in the low-end market. The critical source of sustainable competitive advantage to successfully compete in the high-end market is differentiation, offering products and services that no one else can.
The electric carmaker is currently leading in speed, safety, battery life, and autopilot system. However, it lacks options in the popular segment, such as large SUVs. Rivian (NASDAQ: RIVN), an EV start-up, manages to fulfill the demand for 7-seater SUVs by launching the R1S model.
How Tesla lowers the bargaining power of buyers:
Diversify products in the popular segment, such as large SUVs.
Provide an innovative subscription model than traditional leasing or financing.
Expanding autopilot capability, reliability, and safety globally.
Offering unique services that cannot be replicated by others like Starlink network.
#4 – THREAT OF SUBSTITUTES
The threat of substitutes is HIGH, as Tesla owns a 1.2% market share of the overall automobile market and 14.55% of the global electric vehicle market [5]. The big automakers have a solid customer base, and the start-ups saturate the markets. However, the critical source of competitive advantage for Tesla is brand loyalty.
Tesla has loyal followers because of its CEO, Elon Musk. His controversial appearance on social media and mainstream channels is a free marketing campaign for Tesla. There are no billboards and advertisements about why owning a Tesla car is the best decision you ever made.
Meanwhile, the big automakers like Ford, GM, BMW, Volkswagen, and Mercedes-Benz are spending billions of dollars on marketing campaigns to have their latest cars in every magazine, television advertisement, radio, and social media.
How Tesla lowers the threat of substitutes:
Tesla is right on track to market its brand through clever marketing rather than the traditional approach.
Compete in the high-end market and charge premium pricing.
Expand company-run showrooms and stores into an interactive technology hub, so customers can experience the latest Tesla technology, similar concept to Apple Stores and Starbucks Reserve.
#5 – INDUSTRY RIVALRY AMONG COMPETITORS
The industry rivalry among competitors is INTENSE, from start-ups, traditional automakers, and big automotive brands switching to electric. The competitors use pricing and differentiation strategies, restricting Tesla's market penetration and profitability growth.
The volatility of oil prices, geopolitics, and government policy changes negatively impact the attractiveness of electric vehicles. The issues of reliability, battery life, lack of infrastructure, and chip shortage are still the industry-wide issue that makes electric vehicle challenging to compete with internal combustion engine vehicle.
How Tesla lowers the intensive of the industry and competition:
Differentiation in the product, place, price, and promotion is a key source of competitive advantage in an intense industry.
Innovation, integrated services, and IPs are the building blocks of Tesla's competitive advantage.
Supply chain, vertical integration, and continuous improvement will lower the unit cost to increase profitability.
A strong social media presence will enhance the brand value and adoption.
IMPLICATION OF PORTER'S FIVE FORCES INDUSTRY AND COMPETITION ANALYSIS ON TESLA
In summary, Tesla has a low entry barrier, high bargaining power of suppliers, low bargaining power of buyers, high threat of substitutes, and intense rivalry. However, Tesla has the competitive advantages and leverage to compete in an intense industry. Continuous headlines in the social media, mainstream channels, and investment community accelerate brand adoption, especially in the young demographic.
The organization is structured as an agile technology company with a less rigid mechanistic structure, which gives the vital agility to respond to threats and opportunities quickly ahead of its competitors. Tesla can identify and venture into game-changing opportunities with the leverage of its sister company SpaceX.
The high stock valuation reflects high expectations of the future cash flows driven by the growth of its product pipeline. The high valuation is sustainable if the company stays on track as the leader in technology innovation, supply chain, and manufacturing excellence. The low market share in the overall automotive industry reflects strong future growth and opportunity for expansion.